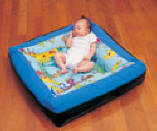 About Playnests
From an early age, babies enjoy being propped up to see what is going on around them. A playnest offers plenty of support for your newborn. Being propped in a playnest will also make your reflux baby more comfortable. No more hard knocks when learning to sit.
Features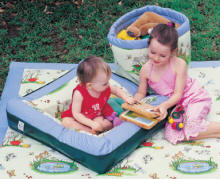 The unique design of Wiggy Winks Playnests incorporates a waterproof backing, suitable for indoor or outdoor use. As it is lightweight and durable it is easily portable.
All playnests feature 100% cotton tops, 100% polyester fill and rugged, waterproof polypropylene backing (compliant with Australian Standard AS1647.3). Sized at approximately 0.66m x 0.66m. Washable and quick drying.
Ollie's Underwater Kingdom Playnest Round & Round the Garden Playnest
Code: WW2001 Code: WW2002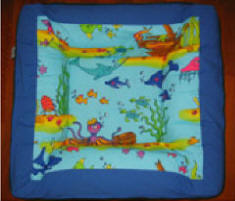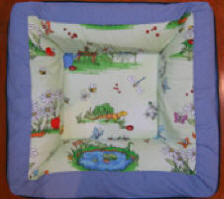 Selling price: S$39.00